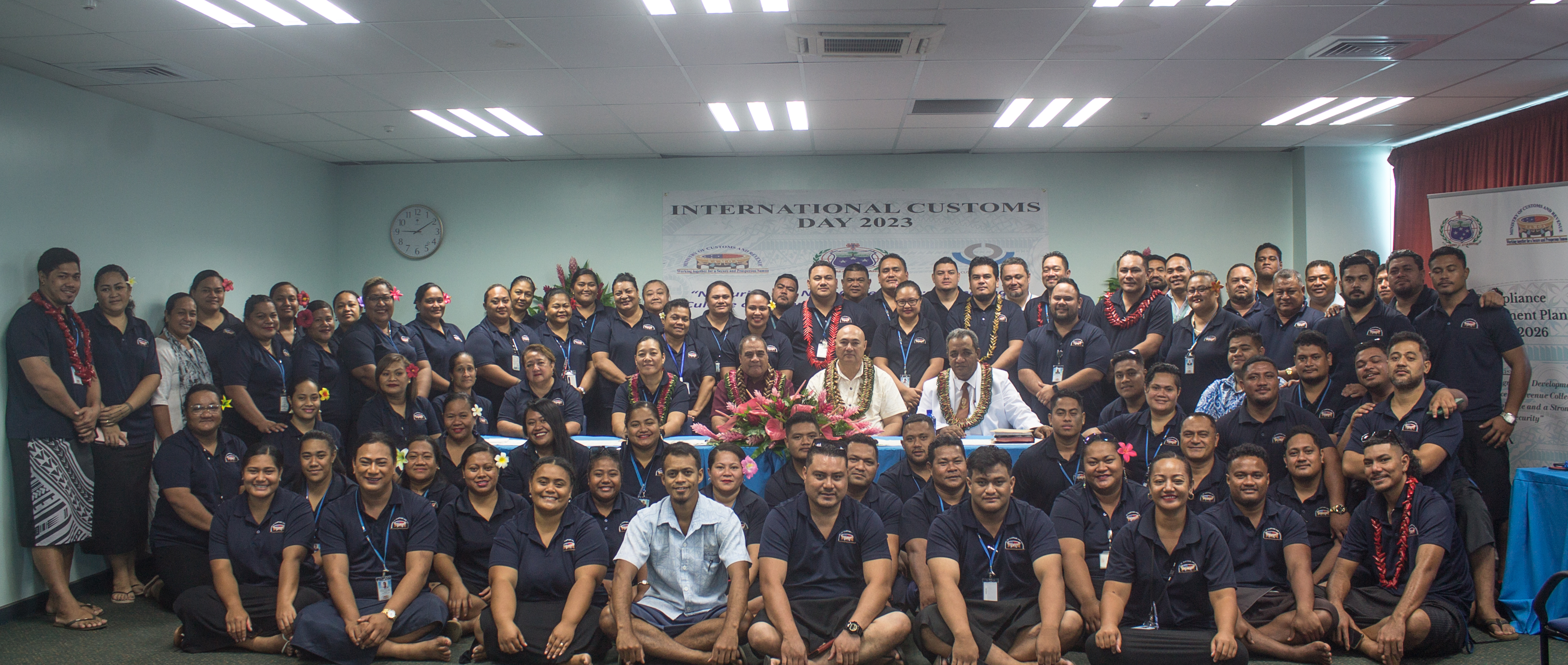 The Ministry of Customs and Revenue (MCR) started this year with a Thanksgiving Service. This service is an annual event for the Ministry to give thanks to the Lord for a successful end of the year 2022, and to seek the Lords blessings and guidance in the work of this new year 2023. The service was led by the General Secretary of the CCCS, Rev. Vavatau Taufao who gave a sermon with the key message "live the light" reflecting on the Ministry and its cause, its contribution to the development of our country. He concluded by saying that the metaphors of salt and light applies to the amenity of the Ministry, serving with integrity and veracity to achieve goals and objectives that impact positively on the development of the country's economy. The keynote address was delivered by his Honourable Deputy Prime Ministry, Afioga Tuala Tevaga Iosefo Ponifasio, who is also the Ministry for MCR. Hon. Tuala echoed the heart of thanks to God and appreciated the work of the Ministry in the year highlighting key achievements and milestones of the year 2022. These milestones include the progress of the TIMS project, review of the Business License regulations and processes and others. One of the Milestones also celebrated was the launching of the Ministry's Compliance and Improvement Plan 2023-2026. This three-year plan is the second of the Ministry wide efforts to formulate and lay out key compliance issues and strategies to mitigate these risks. One of the key additional components of this plan is specific strategies and actions to mitigate the risks on compliance due to the impacts of COVID19 on the business community. This plan aims at assisting the Ministry in guiding its efforts in enhancing and assuring improved level of compliance and a level playing field for all its stakeholders.
The Ministry also held the official opening of the International Customs Day Commemoration. This is an annual event celebrated around the world to recognize the role of Customs officers in the efforts to effectively facilitate trade, protect borders and collect revenues. The World Customs Organization has committed this year to "Nurturing the next generation – Promoting a Culture of Knowledge Sharing and Professional Pride in Customs" with the focus being placed on three areas:
the next generation,
organizational culture knowledge management,
professional pride in customs.
One of the key events relating to this year's commemoration is, the Inter-Divisional Exchange program. The program allows customs officers in the Assistant and Officer levels to express interest in a role within another division of Customs. It is an opportunity to explore and learn more from another area of Customs for a timeframe. The main aim is to ensure that they are not complacent in their current assigned work and the exchange will be a platform to nurture Customs future leaders through expanding their knowledge and skill sets for satisfactory outcomes and the betterment of our beloved country.
We truly believe that all these activities and developments are our continuous efforts we achieve our vision and our missions